Thomas J. Marzen Respect Life Award
As the Terre Haute Tribune Star reported, "Thomas J. Marzen was a member of St. Joseph Parish in Terre Haute, Indiana and active in the pro-life movement." Even with his fragile health condition, Tom soldiered on, indefatigable in his devotion to serve those who could not protect themselves.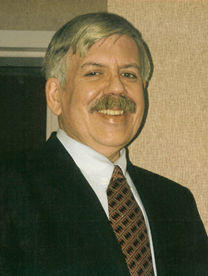 Richard Doerflinger stated, "Tom became a linchpin figure in promoting mutual understanding and collaboration between the pro-life and disability rights movements in defending vulnerable human life. The entire movement against legalized euthanasia and assisted suicide would today be an incomparably weaker and poorer influence in our society if not for the work he did and the coalitions he helped build."
One of Tom's colleagues referred to Tom as, "a walking encyclopedia of the pro-life movement." Tom was active for over three decades as a pro-life attorney. He authored many appellate briefs in major cases and law review articles on pro-life issues, one of which was cited by the U.S. Supreme Court.
He served as general counsel for Americans United for Life in Chicago and the National Legal Center for the Medically Dependent & Disabled, Inc. in Indianapolis. He kept in constant contact with all the major personalities in the pro-life movement. He also spent many pro-bono hours on the telephone counseling people from all over the country asking for legal advice. "Active in the pro-life movement" might qualify as the understatement of the year or even century. Tom dedicated his life to our cause. He was a model of faithfulness to those of us privileged to know him.
Like so many others, we will greatly miss him and therefore dedicate this award to him.
Recipients of the Thomas Marzen Respect Life Award
2008 – Thomas J. Marzen (memorial)
2009 – Msg. Lawrence Moran
2010 – Ron Curtis
2011 – Cecelia Lundstrom
2012 – Donna Brinkley
2013 – Susan Graham
2014 – Rick Mascari
2015 – Evelyn Ring
2016 – Sharon Carey
2017 – Ann Coker
2018 – Pastor Larry and Dixie Swan
2019 – Dr. Braxton Hunter
2020 – Mike Fichter
2022 – Barry and Carole Bostrom
Criteria for receiving Thomas J. Marzen Respect Life Award
Must be an active person working for a pro-life organization in the Vermillion, Parke, Vigo, Clay and Sullivan counties located in Indiana or Clark County in Illinois.
Criteria based on personal information sent by nominee as follows:
Being dedicated to the sanctity of human life.
Longevity of service and a servant attitude within a pro-life organization(s).
Faithfulness to the tasks related to pro-life work.
Enthusiasm for learning and contributing to pro-life work.
Positive relationship with other pro-life workers and pro-life volunteers sets example for others.
Courteous and respectful toward others, as well as families and friends.
Going the extra mile in recognition and involvement in additional services for the community.
To nominate a person or married couple for this award, complete the nomination form and mail it to Wabash Valley Right to Life, Inc., P.O. Box 3261, Terre Haute, IN 47803.
Download